Description
Kein schöner Land

[trad. | arr.: Mulo Francel | orchestr.: Mulo Francel & Leo Kuhn]

0:36

Hoch auf dem gelben Wagen

[Heinz Höhne (1892-1968) | lyrics of the folk song: Rudolf Baumbach (1840-1905) | arr.: Mulo Francel & D.D. Lowka | orchestr.: Mulo Francel & Daniel Freiberg]

0:37

In einem kühlen Grunde

[Friedrich Glück (1793-1840) | lyrics of the folk song: Josef von Eichendorff (1788-1857) | arr.: Andreas Hinterseher]

0:36

Die Gedanken sind frei

[trad. | arr.: Mulo Francel]

0:36

Sah ein Knab ein Röslein stehn (Heidenröslein)

0:36

Kennst Du das Land... (Mignons Lied – Sextet Version)

[Friedrich Heinrich Himmel (1765-1814) | lyrics of the folk song: Johann Wolfgang von Goethe (1749-1832) | arr.: Andreas Hinterseher]

0:34

Wohlauf in Gottes schöne Welt

[trad. | arr.: Mulo Francel | orchestr.: Mulo Francel & Leo Kuhn] with quotations from: Bozner Bergsteigerlied & Muss i denn zum Städtele hinaus

0:36

Am Brunnen vor dem Tore

[trad. | arr.: Mulo Francel | orchestr.: Mulo Francel & Peter Hinderthür]

0:36

Servus Habibi (Bavarian songs with oriental friends)

[Mulo Francel | orchestr.: Mulo Francel & Rafeek Gamal] with quotations from: Unser oide Kath, Leid Leid Leidl, Hans bleib do, Ui mei Henderl & Stampftanz

0:39

Im Frühtau zu Berge

[trad. | arr.: Chris Gall]

0:34

Ich fahr dahin

[trad. | arr.: Chris Gall]

0:36

Ich weiß nicht, was soll es bedeuten (Loreley)

[Friedrich Silcher (1789-1860) | lyrics of the folk song: Heinrich Heine (1797-1856) | arr.: Andreas Hinterseher]

0:36

Maikäfer flieg

[trad. | arr.: Mulo Francel]

0:36

Isarmärchen-Tango (Quintet Version)

[Münchner Lied by Ludwig Prell (1887-1965) | arr.: Mulo Francel]

0:36

Trinklieder reloaded

[Mulo Francel | orchestr.: Mulo Francel & Bastian Pusch] with quotations from: Trink Brüderlein, Auf und nieder, Prost Prost Kameraden, Zicki Zacki Heu Heu Heu, Ein Prosit der Gemütlichkeit & Funicolì, Funicolà

0:36

Bona Nox

[music & original lyrics: Wolfgang Amadeus Mozart (1756-1791) | arr.: Chris Gall]

0:35

Der Mond ist aufgegangen

[Johann Abraham Peter Schulz (1747-1800) / lyrics of the folk song: Matthias Claudius (1740-1815) / arr.: Mulo Francel]

0:36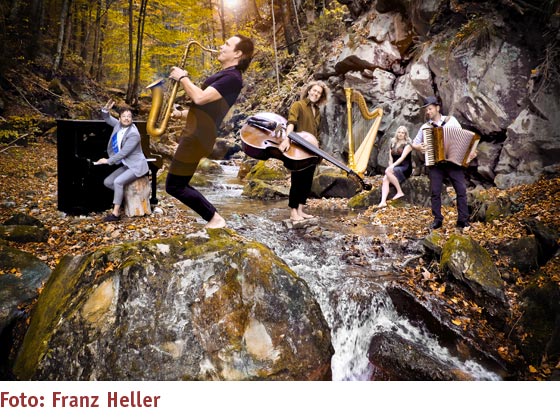 After touring all over the globe for many years the instrumental artists of Quadro Nuevo successfully evolved their own musical genre between Jazz and World Music. Now they are facing their most adventurous journey:
Back to the Roots.
Joyous, multi-cultural and open-minded versions of traditional German folk songs!
From the booklet:
Something suddenly happened … something has changed … completely changed!
We have been touring the globe since 1996. Born at the foot of the Alps, we went off to discover the big wide world. Swapped mountains for cities, clubs for big halls, and rivers for the sea.
We went in search of melodies, found tangos, played swing in the Balkans, grooved in the Middle East, jammed with strangers, struck up with friends, walked barefoot through woodland, rode camels in the desert, onward ever further, ever more exotic …
and then?
Then came the thrill.
The thrill of the songs.
The farthest journey.
The one to our own roots.
The hidden treasure:
The innermost
Back from the world outside, we are focussing our gaze on our own culture. Enriched by all the experiences we are daring to undertake a personal experiment:
Volkslied Reloaded
Quadro Nuevo in spring 2019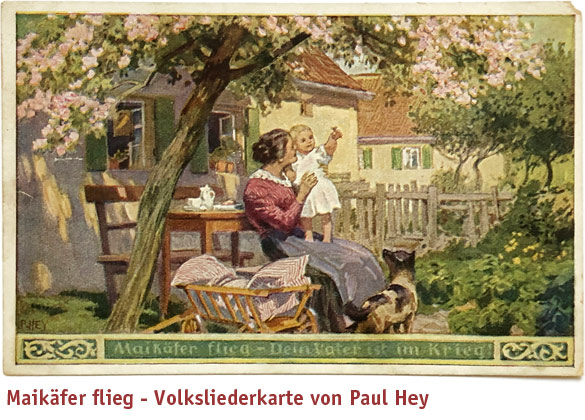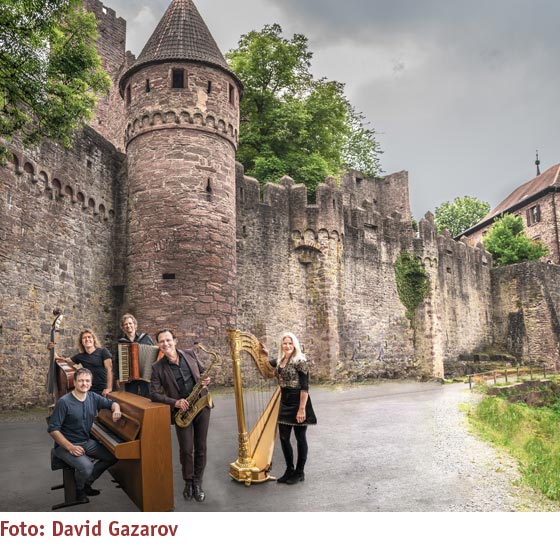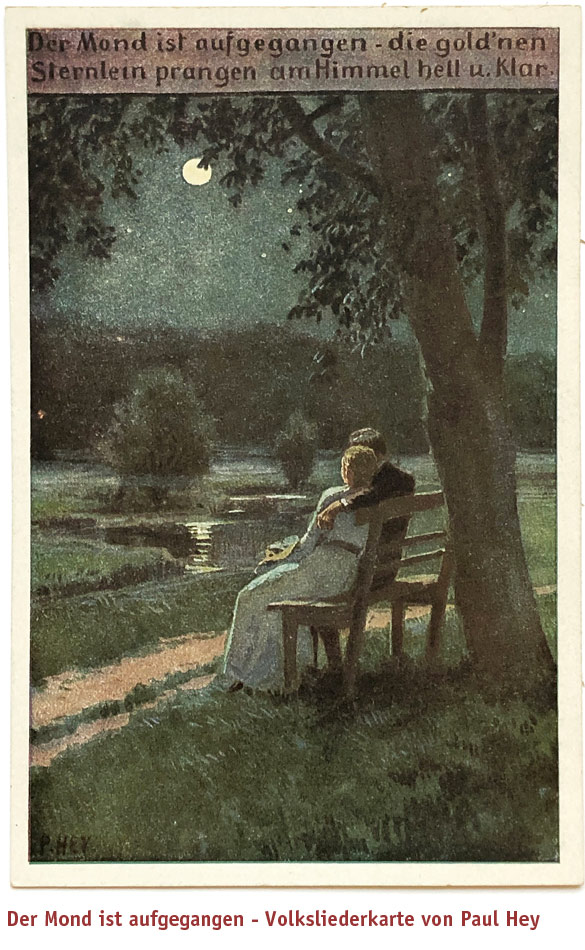 The genre was appropriated by nationalist movements, force-fed to thousands of schoolchildren as music which they hated, turned into something kitschy, and generally messed about with.
And now what? It's forgotten.
21st-century global information overkill has washed it away. Robbed of its relevance and its ability to bind together communities, it has distanced itself from its native soil.
Italians, Scandinavians, Russians, Greeks. They all sit around together, happily singing their songs.
But Germans don't do that. And even if we did want to do it, it's not easy to manage. Raise your glasses to Gemütlichkeit, yes, but we fail to recall much else from our collective memory.
But surely there used to be a rich repertoire? People singing about all those topics that are part of life: love, work, beauty, nature, freedom, rapture, celebrating one's existence on this earth!
Now Quadro Nuevo are rescuing the folk song from oblivion. Playing these songs on their instruments. Giving them a unique sound.
But what happens when the band applies its inimitable style, shaped by South-American rhythms and the art of improvisation, to the good old German folk song?
Can once popular songs like Hoch auf dem gelben Wagen or Im Frühtau zu Berge sound really cool? Can such outmoded melodies be revived? Can we inject them with the sound of today without getting lost in the past?
We can. You bet we can!
Quadro Nuevo undertakes an adventurous journey back through the centuries. As on their successful albums Weihnacht and Schöne Kinderlieder, the world music artists track down these old melodies.
Together with the fantastic musicians of the Munich Radio Orchestra under the baton of Salzburg-based conductor Elisabeth Fuchs, our popular cultural heritage is revived, the rich musical essence distilled from the old songs.
Kettledrums and trumpets, saxophone and accordion, harp and double bass, piano and bandoneon, lots of strings and wind instruments, pandeiro and congas join to give these songs a real shot in the arm.
The virtuoso musicians apply their youthful energy and rhythmic sophistication to these old melodies, thereby returning their dignity. Without kitsch.
Because they enjoy playing them. Because they belong to them.
Harald Lesch
(astrophysicist, philosopher, author)
SONY Classical writes:
Quadro Nuevo and the Münchner Rundfunkorchester present traditional folk songs in a new musical guise – "Volkslied Reloaded"
The award-winning world-music-jazz ensemble Quadro Nuevo and the Munich Radio Orchestra reform traditional German folk songs and give them a new instrumental sound full of musical finesses. Under the direction of Elisabeth Fuchs the musicians the musicians have given a face-lift to well-known songs like "Der Mond ist aufgegangen" (The moon is fully risen), "Hoch auf dem gelben Wagen" (High up on the yellow post coach) and "Die Gedanken sind frei" (Thoughts are free) and injected virtuosic creativity into almost forgotten melodies such as "In einem kühlen Grunde" (The broken ringlet), "Kein schöner Land" (No country more lovely) and "Maikäfer, flieg" (Fly away ladybird). The result is a multi-faceted instrumental album with influences from bossa nova, tango, jazz, world and film music.
In the hands of five "award-winning and internationally successful thoroughbred musicians" (according to the Süddeutsche Zeitung) music styles that seem hardly compatible join together on a musical expedition that opens up completely new aspects of seemingly old, familiar songs. Who would have thought that "Am Brunnen vor dem Tore" (The linden tree) or "Sah ein Knab ein Röslein stehn" (Roselet on the heather) could sound so lively in an arrangement for saxophone, accordion, harp, double bass, piano and orchestra? With their effortless and passionate love of music making, their energy and rhythmic refinement, the Quadro Nuevo ensemble proves that this sophisticated blend of sound is not merely worth listening to, but utterly mesmerizing.
The German-language folk song genre has experienced many ups and downs in its lifetime. It was pressed into the service of nationalist movements, force-fed to children as musical fodder and often turned into pure kitsch. While the Italians, Scandinavians, Russians and Greeks happily sit about singing their folk songs, German folk songs are scarcely heard these days. Quadro Nuevo is bringing them back from oblivion, playing them in their own unique and lively manner, along the lines of:
The moon has risen.
Let's meet at the fountain before the gate.
Thoughts are free. Let them fly.
About Quadro Nuevo:
Quadro Nuevo has developed its very own language of tone poetry as an instrumental ensemble away from run-of-the-mill genre stereotyping. The musicians' inspiration is born of their encounters with foreign cultures and the diversity of the venues where they perform: as guests in concert halls and at festivals, they are equally comfortable taking to the open air in southern towns as street musicians, acting as a nocturnal tango band encouraging people to dance, playing in jazz clubs or in New York's Carnegie Hall.
Quadro Nuevo have been touring the countries of the world since 1996 and have given over 3500 concerts: Sydney, Montreal, Ottawa, Kuala Lumpur, Istanbul, New Orleans, Mexico City, Beijing, Seoul, Helsinki, Tunis, Tel Aviv. From the tranquillity of Upper Bavaria over the Alps to Cairo, from Hong Kong to Buenos Aires. They have been awarded many prizes, including the 2010 and 2011 ECHO Jazz award as Best Live Act and in 2018 a "Goldene Schallplatte" award.
About the Munich Radio Orchestra:
Founded in 1952, the Munich Radio Orchestra has developed its own unique artistic profile thanks to its programmatic diversity. Its repertoire ranges from concertante opera performances with top-flight soloists and sacred music of the 2oth and 21st centuries, through concerts for children and young people with an educational supporting programme, to entertaining themed evenings and concertante film music. The Munich Radio Orchestra has its finger on the pulse of the modern era and is also comfortable pushing the boundaries of symphonic music, performing jazz and recording gaming music.
About Elisabeth Fuchs
Born in Austria, Elisabeth Fuchs is Principal Conductor of the Philharmonie Salzburg; she has worked for several years with famous European ensembles such as the Stuttgart Philharmonic, the Zagreb Philharmonic and the Brussels Philharmonic orchestras. She has regularly guest conducted many radio orchestras.
Elisabeth Fuchs loves to push musical boundaries. This has led to her involvement in some special music and performance projects, including with Stjepan Hauser (2Cellos), the David Orlowsky Trio, the Klazz Brothers, Rolando Villazón, Iris Berben, Quadro Nuevo and a host of other artists.
Something that is close to her heart is participatory music learning, which has involved a number of projects including with choirs of more than 300 singers and musicians, as well as outreach work with children and young people.
Elisabeth Fuchs studied orchestral conducting, choral conducting, oboe, school music and mathematics at the Mozarteum University in Salzburg, at the Paris-Lodron University in Salzburg and at the College of Music in Cologne.
Münchner Rundfunkorchester
Elisabeth Fuchs Conductor
Quadro Nuevo:
Mulo Francel Saxophones, Clarinets
Andreas Hinterseher Accordion, Bandoneon, Vibrandoneon, Trumpet
Evelyn Huber Harp, Salterio
Chris Gall Piano
D.D. Lowka Bass, Cajon, Frame Drums
Guest Musicians:
Basem Darwisch Oud (on Servus Habibi)
Rageed William Nay Flute (on Servus Habibi)
Hany El Sawaf Riqq, Duff (on Servus Habibi)
Max Klaas Percussion (on Kein schöner Land, Hoch auf dem gelben Wagen & Servus Habibi)
Robert Kainar Percussion (on Kein schöner Land, Hoch auf dem gelben Wagen & Kennst du das Land)
Florian Riedl Pandeiro, Shaker (on Kein schöner Land & Hoch auf dem gelben Wagen)
Recording: January 07 – 11, 2019, Studio 1 BR München
Mixing: January 14 – February 12, 2019, Studio 1 BR München
Recording Producer: Johannes Müller
Recording Engineer: Christiane Voitz
Recording Technician & Editing: Andreas Mittelstädt
Recording Assistance: Franz Kramer, Jörg Heilmann, Darko Vasilijevic
Production Coordination: Florian Lang
Executive Producers: Quadro Nuevo, Veronika Weber (BR) & Michael Ziethen (Sony Music)
Mastering: Christoph Stickel, csmastering Vienna
Artwork: Olaf Becker
Translations: texthouse
Servus Habibi was recorded in collaboration with sound engineer Bassem Sobhy, iStudio Cairo, Egypt.
Kennst du das Land, Maikäfer flieg & Isarmärchen-Tango was recorded in collaboration with sound engineer Adrian von Ripka, Bauer Studios Ludwigsburg.
Isarmärchen-Tango & Kennst du das Land (Sextet Version) was mixed by Stephan van Wylick.
Original folksong images (Volksliederkarten) by Paul Hey: Copyrights held by Renate Wachnitz, nee Hey. Used with kind permission.
Quadro Nuevo dankt dem Team des BR, den fantastischen Musikern des Orchesters, dem Team von SONY Classical, dem Haus des Deutschen Ostens München, der Kulturförderung des Bezirks Oberbayern, Julie Fellmann für die Text-Redaktion, unserer langjährigen Bookerin Katja Ogiolda und allen, die an diesem herrlichen Projekt mitgewirkt haben.
Der Mond ist aufgegangen.
Treffen wir uns am Brunnen vor dem Tore.
Die Gedanken sind frei.
Lassen wir sie fliegen!
Thoughts are free.
Let them fly!