Description
Miserlou

1:03

O Sarracino

1:02

El Choclo

1:01

Sultana

1:00

Mocca Swing

1:01

Giovanni Tranquillo

1:06

Penta

1:00

Quiereme

1:00

Bei mir bist Du scheen

1:00

Jakob Elija

1:01

Tango Gosselin

1:01

Fierra Triste

1:00

Café Europa

1:00

El Sospiro del Moro

1:01
Mocca flor – music like a good cup of coffee.
Invigorating the senses, warming the soul and laden with the fragrance of oriental pleasures. Luxury for the moment. The sounds of Quadro Nuevo permeate like the comforting aroma of freshly ground coffee. Savouring the captivating experience, the listener is led into a world of swaying turbans, old taverns and passionate tango.
Orient and occident coalesce in the music of Mocca flor. Neapolitan mandolins, Balkan swing and Arabesque melodies merge with accordion rhythms into oriental tango. The magic of Klezmer and a bold melancholic saxophone add spice to old European coffee house music.
Magical fairy-tales in sound unfold, whose adventure begins somewhere between Paris and Istanbul, Palermo and Cairo, Berlin and Piraeus.
Weaved out on gnarled tables and against the backdrop of dented coffee pots.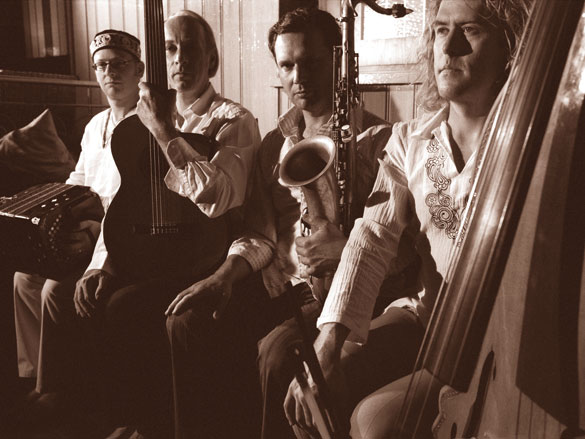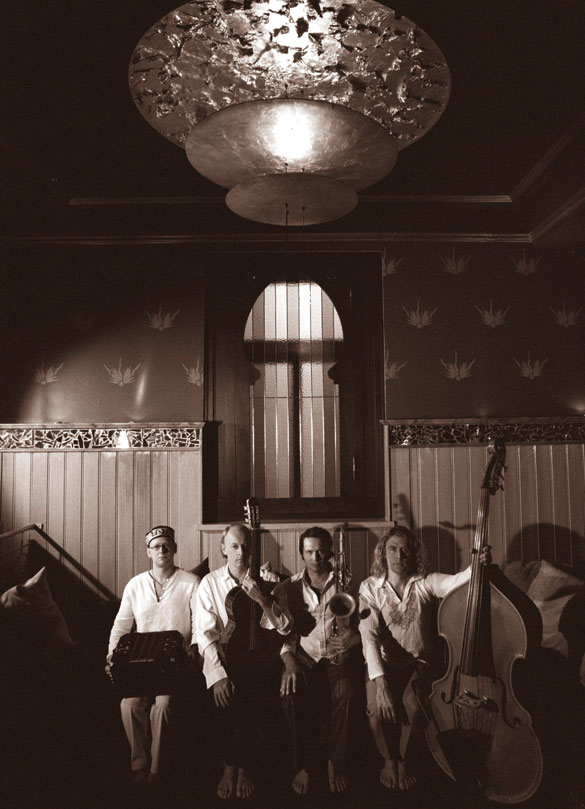 The influence of the coffee bean was discovered long ago by Abyssinian herdsmen, whose goats stayed awake for several nights following their excessive consumption.
The custom spread like wildfire across the Orient, where the first coffee houses opened their doors. They were considered as sinful places, notorious for their salaciousness and debauchery. All attempts to prohibit the devil's brew were dashed by the resistance of the people.
The city of Mocha on the Red Sea lent its name to the black drink, from whence the Arabian countries shipped their wares across the seven seas.
The comforting aroma of freshly ground coffee in its diverse forms crosses cultures to this very day.
All notes to be heard on the fifth CD Mocca flor are played by Quadro Nuevo themselves.
The members of the ensemble, united to the core in their passion for the pleasure of coffee, consists of Mulo Francel (saxophone), Robert Wolf (guitar), Andreas Hinterseher (accordion) and D.D. Lowka (contrabass).
Besides these instruments, the group makes use of an unusual collection of hitherto exotic ones:
the gusle from Montenegro, the Greek bouzouki, the Neapolitan mandolin and the enchanting sansula belonging to the kalimba family. Furthermore, the psalter, an instrument even mentioned in the Old Testament, may also be heard, as well as various clarinets and drums, such as the udu and tarabuka, a vibrandoneon – a wind accordion manufactured in Italy, ukulele and bandoneon. Tapping and clapping sounds, children's toys and the swishing of willow branches add to the flavour of the sound.